With the 2020 high school football season in Washington pushed back, the third annual Cleats Vs. Cancer All-Star Game, scheduled for January 2nd, 2021, was in jeopardy.
Founded by Derek Sparks, a former Washington State running back and high school coach in the Seattle area, in 2018, quick adjustments is nothing new.
When Sparks founded the game, it was on the heels of his daughter, Ze'Lee, being diagnosed with leukemia.
Sparks, now an assistant coach at Pacific Lutheran University, an NCAA Division III school in the Tacoma area, but an administrator at Burien (Wash.) Kennedy Catholic, founded the game to give high school seniors an opportunity to play in an all-star game while being scouted by D-II, D-III and NAIA schools.
With the NCAA wiping out the spring evaluation period, which left 2021 and 2022 recruits especially vulnerable, and PLU not able to host their wildly successful showcase in June, Sparks pivoted to another idea.
"I think back to 2018 when I decided to do the first Cleats Vs. Cancer game in two months, it was kind of the same scenario," said Sparks. "I had been working with Thurston County and tried to get a venue and then the Regional Athletic Complex became available and in about two weeks, we went from getting the green light to having the camp."
Sparks had no intention of doing a camp- the work for the all-star game was a year-round venture.
But conversations with high school players got him thinking.
"The motivator for me was I started getting calls from guys who are going to be seniors this year," said Sparks. "They were worried about recruiting, worried about the season being moved and is it going to affect recruiting. They wanted my advice, what they should be doing and after a few of those conversations, it dawned on me, these kids need hope."
On Saturday, over 225 players, spread out over the day, with social distancing rules followed, took part in the first ever Cleats Vs. Cancer Mini-Camp.
While the majority of campers there were players looking for their first offers or more opportunities, three of the state's top players, including the nation's No. 1 ranked receiver and No. 1 pro-style quarterback, were in Thurston County.
"What motivated me to come out is doing what I can to support coach Sparks," said Sam Huard, the five-star quarterback who attends Kennedy Catholic. "Coach Sparks has been there for me since Ive gotten to Kennedy and he's been a really great mentor to me and he's just a great person in general, I know how hard it has been for him with his daughter fighting leukemia so I wanted to come out and support him."
Fellow Kennedy teammate Junior Alexander, a Top247 member committed to Arizona State, echoed Huard.
"I'm really close with coach Sparks, with him being at Kennedy Catholic, and I remember first hearing about his daughter," said Alexander. "So when the camp was scheduled, I definitely wanted to come out and support this. And then getting a chance to workout with Sam was a nice bonus."
It was a quicker drive for Steilacoom (Wash.) receiver Emeka Egbuka, who lives just north of Olympia, but the nation's No. 1 receiver was happy to participate for a great cause.
"I really felt like participating in this was a big deal, giving others hope fighting cancer and supporting this great cause all while being able to play football," said Egbuka.
Sparks said the presence of Huard, Alexander and Egbuka meant the world to him.
"When Sam and Junior said they wanted to come, my initial reaction was, what would make a kid like Sam or Junior want to be affiliated with this camp, when they really had nothing to prove," said Sparks. "Then Sam told me Emeka wanted to come. And I think it just speaks to their character that they would come participate in this camp and really help support a bigger cause."
Sparks' head coach at Pacific Lutheran, Brant McAdams and Central Washington head coach Chris Fisk, and several of their assistants, were in attendance and both McAdams and Fisk spoke to the campers.
"Central Washington and Pacific Lutheran, those schools were represented, and we invited several other schools in our league but they were limited in their travel by their schools, but all supported our event," said Sparks. "Football brings us together and thats a great thing. As a coaching community, we can put down our competitiveness and it's good for the kids and it's good for the community."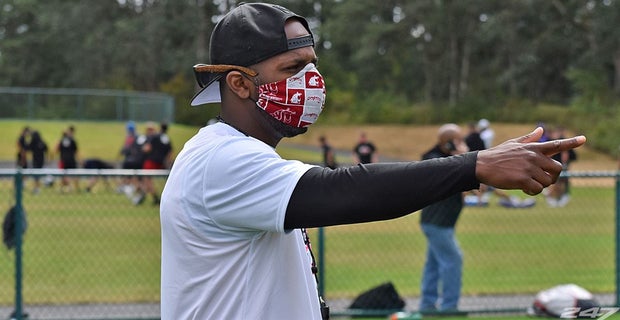 Michael Bumpus, another former Washington State star, who was the head coach at Monroe (Wash.) before resigning to focus on Elite Training Academy, his Monroe-based academy and facility, of which he's the CEO and as a local sports media personality, was the athletic director for the event.
He and Sparks go way back as Coug alums- though they never played together, both are Southern California natives who went to Washington State and remained in the state. And both wore No. 5 in the crimson and gray.
"D-Sparks is my man, we're both Cougs, we both wore the same number, and whatever he needs, he knows I've got him," said Bumpus. "When he told me about his idea for the camp, I said lets do it. He put this together in two weeks and it was sold out. We knew there would be a great response but we weren't prepared for this type of response. Guys were coming from near and far. We knew guys lost the entire spring and 7v7 tournaments, so we knew the hunger was there for something. So we wanted to bring these environment."
Bumpus and his 7v7 program had played against Huard and Egbuka for years, with Huard playing for FSP and Egbuka for HEIR.
And he said their presence validated the camp.
"When you can have an event like this and bring the top quarterback in the nation in Sam and the top receiver in the nation in Emeka, that's big for this camp," said Bumpus.
And Bumpus said the biggest motivator of all was raising awareness for cancer.
"Everyone out here knows someone that has been affected by cancer," said Bumpus. "Getting these guys out here to play football, when they expected to be in fall camp, but now in front of coaches and showing their skills, all while raising cancer awareness, that was our biggest motivator."
Sparks said the high schools in Thurston County immediately supported the event.
"Thank goodness for the coaches from Thurston County coaches," said Sparks. "We had coaches from Yelm, Timberline and Olympia and they said 'coach, we'll make this thing happen.' They wanted to be on the field. Football brings people together. It's like magic, its hard to explain, but when you're with your guys and with your team, there is something magical about it."
Several other high school coaches from the state of Washington were in attendance and coached at the event.
"Getting the support from the high school coaches means so much for our event, both our all-star game and this camp," said Sparks.
Sparks said they're still figuring out when they'll do the 2021 game- whether it's in January, prior to the season, or after the season, which would conclude in May, but either way, Sparks said he's planning to keep the game going.
"We're going to still do it but we'll play it by ear," said Sparks. "I'm a big believer in partnering with high school coaches. Right now, I'm getting a mixed bag of opinions. Some want to keep it in January, others say they'll have guys who will surface in the season and could end up being great nominees for the game if we do it after the season. So we're working through that."
In the meantime, Sparks said his daughter continues to fight leukemia and is nearing the end of her chemo treatments.
"She's in better sprits now but there have been some tough days," said Sparks. "When the quarantine hit, and people were worried, she wasn't, because she's been in quarantine for the last two years. But the mental part of going through the process has been tough. But now knowing that there is an end in sight, she's getting back to her old self. We give all the glory to God, we know all things work together for the good and she has a heck of a testimony to give to other kids. And that's a blessing. She has three more months left of chemo on her plan. And now she's giving kids a chance of hope to pursue the game they love."