Cleats vs. Cancer prep all-star game in Kent a Cougar reunion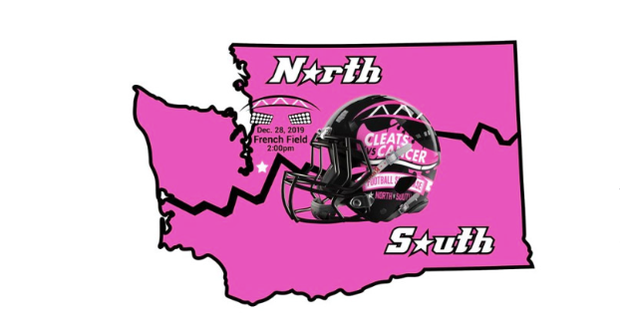 FORMER WASHINGTON STATE running back and 1994 Apple Cup MVP Derek Sparks has — for the second-straight year — pulled together an incredible event: a high school football all-star showcase in which proceeds will benefit a variety of philanthropies battling cancer. The Cleats vs. Cancer High School Showcase is set for next Saturday — Dec. 28 — at French Field in Kent and will feature many of the state of Washington's most outstanding senior football players, as well as  standouts from other Pacific Northwest states.
The doubleheader kicks off at 12:30 pm. Admission is $10, and kids 5-and-under are free.
Sparks, who is an assistant coach at Pacific Lutheran University, was thrust into the fight against cancer last year when his daughter Ze'Lee was stricken with Leukemia and has been fighting hard ever since.
Proceeds from the event will be directed by the players to the following non-profits:
The Avery Huffman Defeat DIPG Foundation
The Tariq 'Tank' Jackson Foundation
Lancers Against Cancer
And some of the proceeds will go to gift baskets of teddy bears and more put together by the Sparks Family to children diagnosed with cancer.
Cougar fans, Husky fans and football fans generally are encouraged to attend and watch what Sparks says will be wide-open offenses lighting up the scoreboard. AND IF YOU CAN'T ATTEND, YOU CAN MAKE A DONATION BY CLICKING HERE.
There is no shortage of former Cougar players involved in the event besides Sparks:
Steve Broussard, Michael Bumpus and Jay Dumas are honorary captains
Gordy Anderson is player personnel director
Fab Fiver Shawn McWashington serves on the organizing committee
Robbie Tobeck's Griffin Maclean Insurance of Bellevue is underwriting the game, and
former Cougar football and basketball star Mike Bush (Kentwood) will be head coach for the North in Game One; former WSU graduate assistant Sheldon Cross (Kennedy Catholic) will be head coach of the North in Game 2
John Fullington (North Mason) and Anthony Buchanan (Kennedy Catholic) will be North assistant coaches, and Chris Paulson (Curtis) an assistant for the South.
In addition, KJR and Q13 sportscaster Ian Furness — a WSU grad — will be calling the action at the stadium.
A number of notable Husky greats also are pitching in, including Damon Huard and Mario Bailey. And Jason Brown, the JC coach of Last Chance U fame, will be doing the coin toss.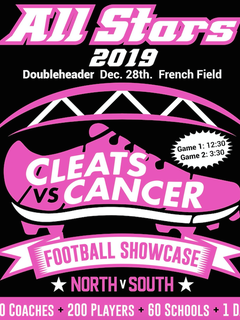 NOTABLE NOTES:
200 players from more than 60 high schools from around the state will be playing
You can find complete rosters from the North and South teams on Twitter at @CleatsV
The game will be an opportunity for talented athletes to show off their skills one last time for college recruiters before February's LOI Day; more than a dozen colleges are expected to have coaches scouting the game
The winning team will receive the Paul Allen Championship Trophy
If you'd like to drop Ze'Lee an encouraging note, head to Derek's twitter @DerekSparks5
ABOUT DEREK SPARKS: He joined the staff of PLU last season after serving as the associate head coach at Kennedy Catholic High in Burien the previous two seasons. Prior to Kennedy Catholic he was the head coach at Seattle's Garfield High for two seasons, where he guided the Bulldogs to their first winning record in nearly two decades and first state playoff appearance since 1979. Sparks began his coaching career as the running backs coach at Compton College in southern California. He  played at Washington State, helping the Cougars win the 1992 Copper Bowl and the 1994 Alamo Bowl. He was the MVP of the 1994 Apple Cup. Sparks is a  motivational speaker and author of the powerful book about high school football and recruiting Lessons of the Game. In 2014, he founded the House of Champions for Homeless High School Student-Athletes.