You have been nominated by a coach to participate in the Cleats vs. Cancer All-Star Showcase. All CONFIRMED nominated players MUST complete the registration form below by December 5th.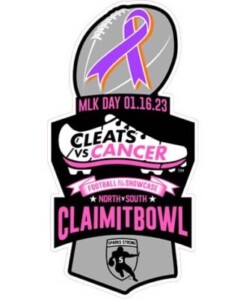 Nominated Player Form
• Player Selection will be mid-December.
• Player commits to three 2-3 hour practices on January 13th, 14th, and 15th, 2023 and Game Day on January 16, 2023.
• Player commits to selling at least 10 Cleats vs Cancer Charity Game Day tickets and purchase a game day jersey.