Yelm Seniors Contribute Big in 'Cleats vs. Cancer' Showcase to Cap Off High School Careers
By Eric Rosane / erosane@yelmonline.com /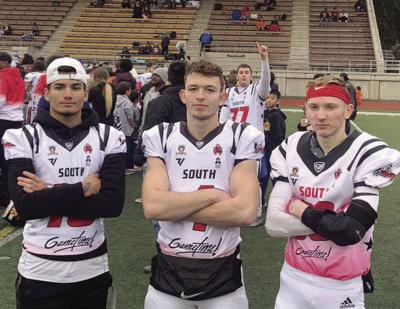 Five Yelm High School seniors took to the gridiron for one last game on Saturday, Dec. 28, for the all-star Cleats vs. Cancer football showcase at French Field in Kent. 
The doubleheader played host to more than 200 players from about 60 schools around the state. Two north versus south games took place during the day. 
Quarterback Ben Hoffmann, wide receiver Sylas Franklin, defensive lineman Bradly McGannon, defensive back Austin Schaler and running back Carson Amendt were the Tornados that participated in the second-annual event. 
Yelm athletes played in Game 1, which was the South Sound versus North Olympics showcase. With the leadership of Enumclaw head coach Mark Gunderson, South Sound picked up the victory. South Sound won 10-7.
Yelm Athletics noted that Schaler clinched his 11th pick of the season, though it won't count toward his school record 10 interceptions recorded during the season. 
Cleats vs. Cancer is an annual event that showcases statewide prep football talent while at the same time donating all proceeds and donations from the event to benefit children battling cancer. 
The event was founded by former Washington State University running back and current-Pacific Lutheran University coach Derek Sparks as a way to fight back against a disease that affects millions of Americans. 
Nominations for next year's games, which will showcase the graduating class of 2021, are currently open at www.cleatsvcancer.com.