Welcome to
Cleats vs. Cancer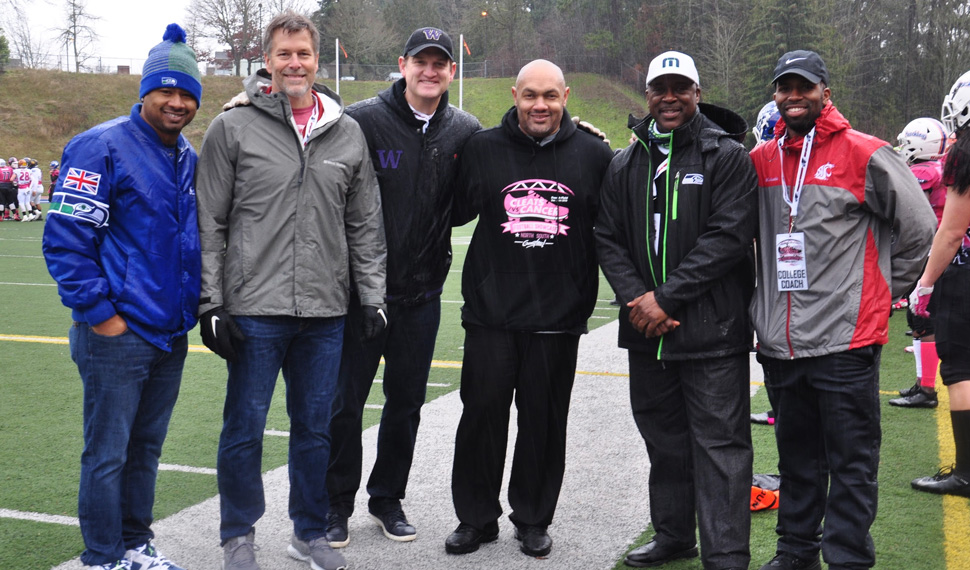 IN THE SPAN OF A LITTLE more than two months, former Washington State running back and 1994 Alamo Bowl vet Derek Sparks has pulled together an incredible event— a high school all-star game featuring many of the state of Washington's most outstanding senior football players — in which proceeds will benefit children battling cancer.
The Cleats vs. Cancer High School Showcase is set for Saturday, May 15th at French Field in Kent. Sparks, who is an assistant coach at Pacific Lutheran University, was thrust into the fight against cancer earlier this year when his daughter Ze'Lee was stricken with Acute Lymphoblastic Leukemia and has been fighting hard since summer. Cougar fans, Husky fans, and football fans from across the country have been supportive of Ze'Lee's fight, sending her encouragement via Twitter and wearing her #ClaimTheVictory wristband.
There is no shortage of Cougar spirit involved in the event. In addition to Sparks, former WSU and Seahawks standout Robbie Tobeck of Griffin MacLean Insurance is helping underwrite the event; KJR and Q13 sportscaster Ian Furness will be calling the action at the stadium; former Cougar football and basketball star Mike Bush (Kentwood) will be a coach for the North team, as will former WSU graduate assistant Sheldon Cross (Kennedy Catholic); and Drew Bledsoe's Doubleback Winery is one of the game's sponsors. A number of notable Husky greats also are pitching in, including Damon Huard and Mario Bailey.
"We are very blessed to have the Cougar and Husky community come together to fight against cancer along side my family, because cancer has touched us all, both directly and indirectly. We know someone that has loss the battle to cancer, currently fighting or in remission. Cleats Vs Cancer is one way we fight back. Thanks for claiming the victory with us." –Coach Sparks.
NOTABLE GAME NOTES:
• 120 players from more than 50 high schools from around the state will be playing
• You can find complete rosters from the North and South teams on Twitter at @CleatsV
• The game will be an opportunity for talented athletes to show off their skills one last time for college recruiters before February's LOI Day
• The winning team will receive the Paul Allen Championship Trophy
• If you'd like to drop Ze'Lee an encouraging note, head to Derek's twitter @DerekSparks5
our passion
our Mission
Bringing awareness and support to children & families fighting cancer, through the game of football.