Nominations open August 2022
Who Will Be The Next Cleats vs. Cancer All-Star?
High school coaches, sports writers and recruiters do you know a player that would benefit from showcasing their football talents one more time? Nominate senior players that you believe have the talent and grit to play college football at the NAIA / NCAA Division I, II, and III levels. Players will get the chance to showcase their skills on January 16, 2023 at the Cleats vs Cancer All-Star Football Showcase in Washington.
Evaluation Skills Camp - July
Saturday, July 23, 2022 – Lacey, WA
Regional Athletic Center
Saturday, July 30, 2022 – North Seattle
(Location TBD)
• 100 players per session AM and PM (limit registration for
each session to 100)
Participants will be evaluated by our team of experts as well as college coaches. Players should expect position-specific drills that will help them showcase their ability on the field as well as recorded 40 times.
Step 1: Complete registration form
Step 2: Purchase skills camp tickets for date and session you want
Step 3: Complete ALL (6) waiver and release forms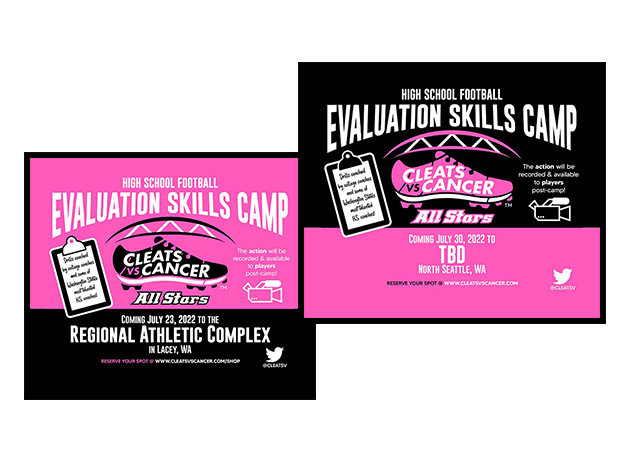 2023 Community Title Partner
blog
Media & News
Stay connected to everything we're doing as an organization.