Nominations open October 1, 2022. Nominations close Monday, November 28th.
• Player selection & selection committee meets on December 10th.
• Player commits to three 2-3 hour practices on January 13th, 14th, and 15th, 2023 and game day on January 16, 2023.
• Player commits to selling at least 10 Cleats vs Cancer Charity Game Day tickets.
Players will receive community service hours for time spent participating in this event and for time spent raising money for charity by selling game tickets.
Our Cleats vs Cancer participant expectation is for excellence in sportsmanship and leadership.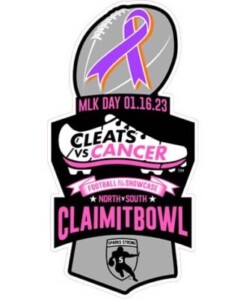 Player Nomination Form
FIRST STEP: Coaches will nominate players by sending this information via the contact form below. Players will be divided into 2-teams, North vs. South. The selection committee will contact the players about their selection. Coaches are encouraged to participate, let us know if you'd like to coach by clicking the link: cleatsvscancer.com/nominate-a-coach/