As the new year approaches, an exciting and powerful event is on the horizon that promises to bring together local communities in the fight against cancer. In January 2024, the highly anticipated Cleats vs 
Cancer High School Senior All-Star Game is set to take center stage at Pop Keeney Stadium in Bothell, WA uniting young athletes, families, and supporters for a common cause.
Organized with the goal of raising awareness and funds to aid those battling cancer, this event is a testament to the power of spo
rts in making a positive impact. The game will showcase the talent and dedication of senior football players from Washington state's community's high schools, as they take the field with unmatched enthusiasm and commitment.
The choice to focus on supporting cancer fighters underscores the event's commitment to giving back and uplifting those in need. Cleats vs Cancer was founded in 2018 by Derek Sparks, former Washington State running back and 1994 Alamo Bowl veteran. It is the first high school all-star game, featuring many of the state of Washington's most outstanding senior football players, in which proceeds benefit children and families battling cancer.
The high school senior football game will not only offer an exciting display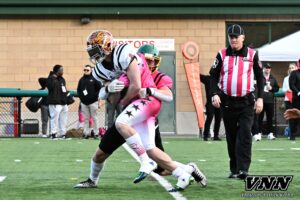 of athleticism and teamwork but also serve as a platform for fostering community solidarity. It is a unique opportunity for spectators to come together, enjoy an afternoon of thrilling football action, and contribute to a cause that touches countless lives.
Mark your calendars now for this impactful event scheduled for January 15, 2024. Let's join forces to create a memorable and meaningful experience that highlights the compassion and strength of our community in the fight against cancer. Stay tuned for more updates and be part of the team that scores a victory over cancer!